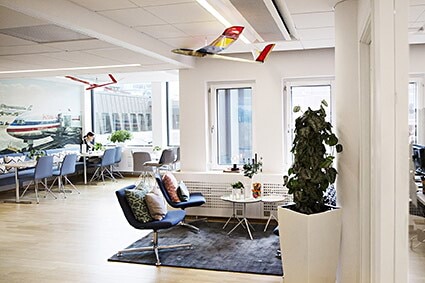 Technical Business Developer
Flightradar24 is a leading provider of flight data to many of the most exciting brands in aviation and beyond, from all over the world. Within our Commercial Services Team, Flightradar24 is looking for a professional and experienced Technical Business Developer to drive the wide-ranging technical aspects of our B2B data sales and business development activities. From expert support to advanced product enhancement, you will play a vital role in keeping Flightradar24 at the forefront of this industry. 

The position is open to candidates that want to work fully remotely as well as to candidates that want to work from our Stockholm, Sweden office.
What you'll do
Lead the technical management of our commercial flight data customers through the life-cycle of their professional data services 
Build a deep understanding of our B2B services and products, with a keen eye on identifying areas for constant improvement and development 
Strongly contribute to the implementation of new digital data sales products and services, such as APIs and data analytics tools 
Efficiently manage the high-quality investigation and resolution of customer queries, providing expert advice and support
Effectively collaborate with our internal software development teams to assist in the proactive monitoring of our data services, and lead customer communications around data service maintenance, upgrades and unexpected in-service events 
Expertly analyse and create insights into our flight data in relation to sales and business development activities
Who you are
Passionate about digital data services, data governance, data/software-as-a-service, data sales and technical business development
A great communicator, comfortable with both writing and speaking to diverse stakeholder groups including internal and external engineering teams as well as executives on technical and non-technical matters alike
3+ years of relevant experience, preferably with technical data services. Enthusiasm for and knowledge of aviation is a big plus 
Professional business mindset with the ability to prioritize and keep overall objectives in focus
Interest in working creatively with a diverse set of customers around the world and understand technical and business requirements
Strong written and verbal English skills
About Flightradar24
Flightradar24 is a leading provider of flight data services to customers across the aerospace industry and beyond, including many of the largest names in aviation, such asAirbus, Boeing, Emirates, GE Aviation, and Fraport to name a few. With over 2 million daily users, Flightradar24 is also the world's most popular flight tracking service for consumers. Our app regularly tops the App Store and Google Play charts and Wall Street Journal refers to Flightradar24 as the "Facebook of aviation". 

Benefits of working at Flightradar24 include:
Opportunity to impact a service with millions of end users from all around the world
Flexible and social work environment with free beverages, fruit, and snacks
Modern office in the heart of beautiful downtown Stockholm, Sweden
Being part of a diverse team with 15+ nationalities and 5 continents represented
Additional information
Remote status

Flexible remote
Or, know someone who would be a perfect fit? Let them know!